Music x Black Culture x Holistic Care
The Trap Unicorn
"No shade to the game, but there isn't a therapist out here like me that can do this work like me. That's what makes me a unicorn. How does that saying go? You can replicate but never duplicate? You can't duplicate this level of greatness. And the "trap"... Incorporating "trap" in the work I do is a way to pay homage to the clients who helped to make me the therapist I am today. Talk about humble beginnings." – Dr. Terri
The Trap Unicorn was inspired by the late visionary, activist, and entertainer, Tupac Amaru Shakur and the common devotion to advocate for the unrepresented and voiceless. The Trap Unicorn stands as a brand that fights against systematic oppression and strives to help Black families reclaim their power through creating safe and supportive spaces for self-healing using music, Black culture, and holistic practices.
The Trap Unicorn's mission is to help Black women and mothers of Black children feel safe - safe to think, safe to speak, safe to express, safe to feel, and safe to love - to break cycles of generational trauma and create generational wealth.
Trap Therapy was coined to describe the psychoeducational and non-traditional therapeutic work therapists have utilized to help their clients and communities triumph from the "traps" that prohibit them from healing perpetuated trauma wounds and systematic oppression.  
As you continue to explore ways to work with Dr. Terri, I invite you to follow her on Instagram to fill your news feed with all things trap therapy and living a happy, healthy, holistic lifestyle.
The Trap House of Healing
The Trap House of Healing is a culturally conscious lifestyle brand for Black women who are struggling to overcome complex family trauma. The Trap House serves as a sacred oasis curated for Black women to parent and heal their inner child, while vibing to the heavy bass and hypnotic rhythms from a live DJ. The Trap House merges music and high energy frequency waves with holistic wellness as a gateway to releasing old patterns and ways of thinking that do not serve you. There are three experiences to choose from: Gardening in the Trap House Garden, balancing and realigning your energy centers with meditation and sound therapy or promote healing in the body with a trauma focused restorative yoga flow. Each healing experience includes light refreshments and swag. Use the links below to book your experiences.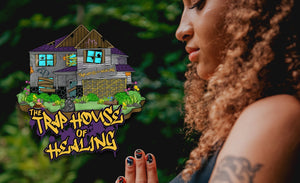 Keynote Speaking and Podcasts
NOT JUST ANOTHER KEYNOTE SPEAKER
Dr. Terri is a woman of many talents and prides herself in delivering high-energy impactful keynotes that will have the audience "getting their entire life together". Dr. Terri uses a mixture of gut punching humor and intellect to teach, captivate, and inspire her audience. 
HERE TO HELP ON & OFF THE MIC
Dr. Terri knows that her true value comes not just from her time on the mic, but the RESULTS that are generated by the audience after the fact. That's why she's laser-focused on creating change. She works with every event organizer before the event to identify the most-desired outcomes and craft spaces that are tailored directly to the audience. Then, she gives every audience member a takeaway (usually in the form of a challenge or workbook) to ensure they're ready to hit the ground running and implement REAL change.
AVAILABLE FOR VIRTUAL AND IN-PERSON OPPORTUNITIES
It's no secret that more and more speaking opportunities are taking place virtually. After all, it's less travel and expense for you and the speaker you hire. Fortunately, Dr. Terri has been prepping for this for years, so no matter what program suits you and your team, she's here to make it happen, whether in person or virtually. 
To book a consult for keynote speaking or podcast opportunities, click here.
Therapeutic Teatime
You are cordially invited to be our guests at our therapeutic sophistiratchet tea party! Therapeutic Teatime is an intimate therapeutic space for women of color to network, unpack, and engage in pivotal conversations about the experiences of womanhood.  Tea parties are hosted at The Trap House of Healing: 2655 Dayview Lane, Atlanta, GA 30331 Ticket pricing is for one individual guest. Each guest must register individually. This event is for adults ages 21 and older. If there is a 40% chance of rain or higher on the day of our tea party, the party may be rescheduled. You can opt to attend the next available party.
Here's how it works
Pick the date: Book your tea party using the Calendly link. You'll receive an automated confirmation email from Calendly.
Each tea party is different and features a live DJ, champagne and refreshments.
Come party: Show up to the party dressed up or dressed down (you decide).
Therapeutic Teatime is a live extension of the podcast "Therapeutic Teatime with the Trap Unicorn".