My Daughter's Keeper Journal
My Daughter's Keeper Journal is your self-guided roadmap to creating a spinetingling transformation in how you and your daughter interact and communicate.
Y.E.P.
A client centered mentorship program for young Black professionals and entrepreneurs who want to master the art of self-discovery.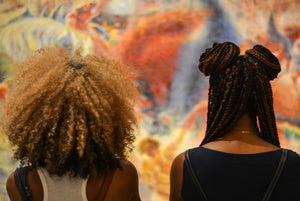 Meet Dr. Terri
Your Certified Hope Dealer. Click the button below to find out how Dr. Terri can be of service to you.
Hello & Welcome!
Hello there! Welcome to my little corner on the internet! My name is Dr. Terri Tanisha, affectionately known to others as The Trap Unicorn. Whether you found me by chance or from doing a little research, I'm honored to share this space with you. Feel free to browse around, and when you're ready, click the video above to find out how I or someone from my crew can be of service to you. If you're ready to become a new client, click the link below to complete the new client referral form.
L.I.T. Hikes for Black Moms
Live. Interactive. Therapeutic. (L.I.T.) Hikes is the event where toe curling transformations happen
About The Brand
The Trap Unicorn was inspired by the late visionary, activist, and entertainer, Tupac Amaru Shakur and the common devotion to advocate for the unrepresented and voiceless. The Trap Unicorn stands as a brand that fights against systematic oppression and strives to help Black families reclaim their power through creating safe and supportive spaces for self-healing.
The Trap Unicorn's mission is to help Black women and mothers of Black children feel safe - safe to think, safe to speak, safe to express, safe to feel, and safe to love - to break cycles of generational trauma and create generational wealth.
★★★★★

Creative & Innovative

"Mrs. Terri is so dope. I worked with her for 7 months and looked forward to every single session. She is very creative, and I love that she thinks outside of the box. I will definitely miss working with her, but I know I can always come back if I need to."

D. Neel
★★★★★

The Best Therapist in Atlanta

"My family and I love Mrs. Terri. She got us all the way together, and it felt good to have a Black therapist that I didn't have to over explain myself to. Book her NOW!"

Tamika H.
★★★★★

She's Always Welcome to the Family Cookout

"For a long time I felt like I wasn't doing enough, because I was stressed out and couldn't always be there for my kids. Mrs. Terri helped me out and helped me see that I really wasn't a bad mom at all. She became a part of our family and I know that if you feel anything like the way I did, then Mrs. Terri can definitely help you."

Juanita G.
★★★★★

The G.O.A.T. of Therapy

"I am so happy I worked with Dr. Terri. I was able to learn a lot about myself and how my own issues as a child have affected the way I parent. The work was hard, but so well worth it."

Iesha S.